If you are a thrill seeker then a hotel with a nice pool where you can just sit back and relax in the sun probably isn't going to cut it when you head off overseas on holiday.
Add in a fantastic waterpark with slides galore however, and suddenly a hotel takes on a whole new level of appeal!
Luckily, there is an ever increasing number of hotels popping up around the world that either have waterparks on site, or that offer access to one nearby as part of your package.
We've selected ten of our favourites that can be found right here on HotHolidays.co.uk, all of which are well worth considering if having fun is something that features highly on your wish list!
Aqua Fantasy Aquapark & Spa Hotel - Kusadasi, Turkey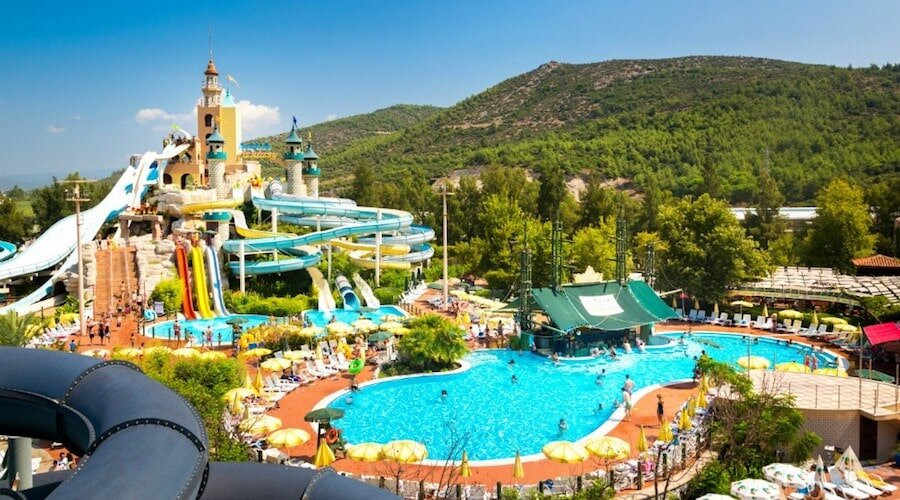 More and more people are discovering the delights of Turkey for a summer holiday in the sun, and hotels like the Aqua Fantasy Aquapark & Spa are part of the reason why.
The luxurious hotel sits near to the resort of Kusadasi on the west coast and has won plenty of awards, with the huge waterpark that is on site being one of the major attractions.
The waterpark is packed with more than 30 attractions that range from a lazy river and a splash zone for smaller children, right through to high-speed chutes and exhilarating raft rides.
It makes it ideal for visitors of all ages and a great option for families.
Various accommodation options are available within the All Inclusive hotel, including luxury options with whirlpool bath with various bars and restaurants.
Aquashow Park Hotel - Quarteira, Portugal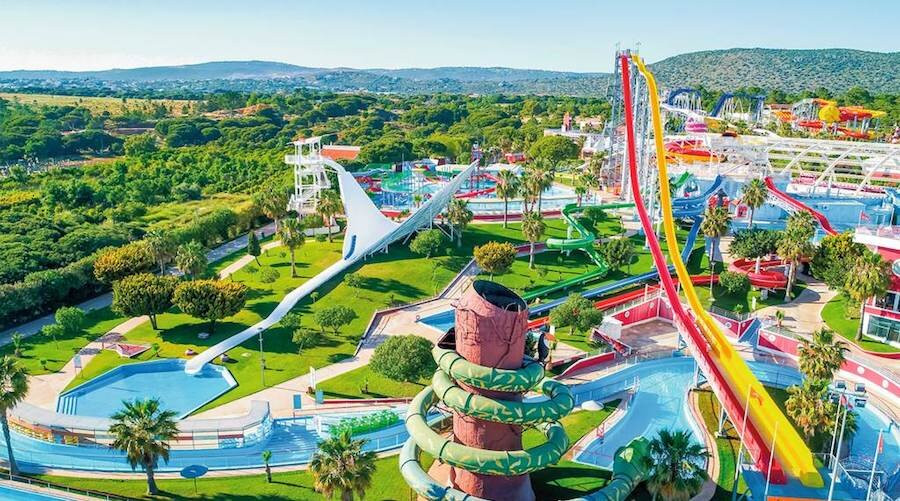 The Algarve is home to a number of waterparks that are ideal for families but there aren't many hotels that have a full-on waterpark on site. The Aquashow Park Hotel certainly bucks the trend…
Located close to the heart of Quarteira, the 4* hotel is located right next to a huge waterpark and theme park that you can access throughout your stay – and which is home to the one of the tallest freeride waterslides in Europe!
The waterpark is open throughout the main summer season and also features a splash zone, wave pool and lazy river amongst the many larger slides whilst there are various rides and an exotic bird show.
The hotel offers Bed and Breakfast or Half Board breaks, with a number of restaurants and bars, and accommodation to suit couples and families alike.
It's a great option if you have the children in tow, or if you simply want to have oodles of fun yourself!
Atlantis The Palm – Palm Jumeirah, Dubai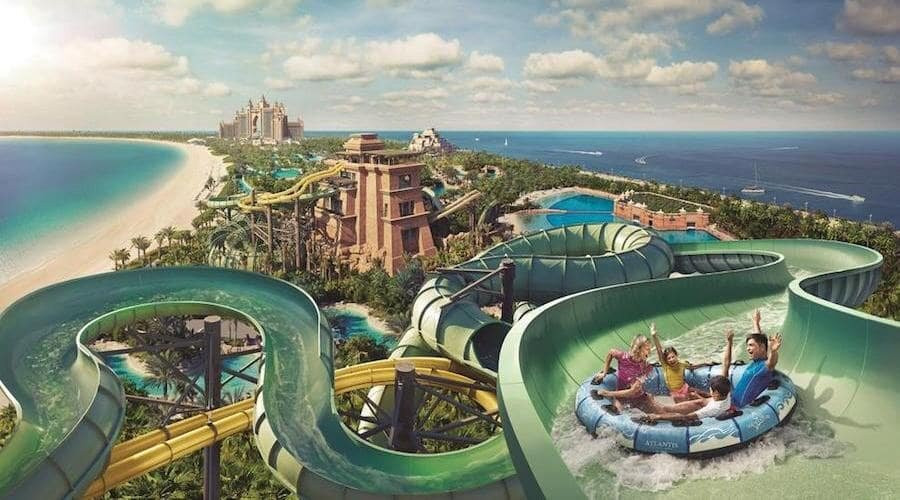 You don't have to stick to Europe to have fun in a hotel with waterpark and there are few around that can match Atlantis The Palm.
Located on the tip of Palm Jumeriah in the Emirate of Dubai, the spectacular hotel is spread across a huge area of 46 hectares – with the luxurious 5* resort rated as one of the best in the region.
One of the main reasons why you might want to consider heading there with the family is Aquaventure, which is one of the top waterparks to be found anywhere in Dubai.
The park has more than 30 slides including the fearsome Leap of Faith, which sees visitors hurtle down a nine story high slide that goes right through an aquarium. There is also a splash area for smaller children and access to a private stretch of beach for relaxing under the sun.
Accommodation ranges from basic 'Deluxe Rooms' that are ideal for couples and families alike, right through to special underwater suites that look out into the aquarium.
Add in top class dining, an impressive spa and a marine park, and you can see why Atlantis The Palm offers an extra special holiday experience.
BH Mallorca – Magaluf, Mallorca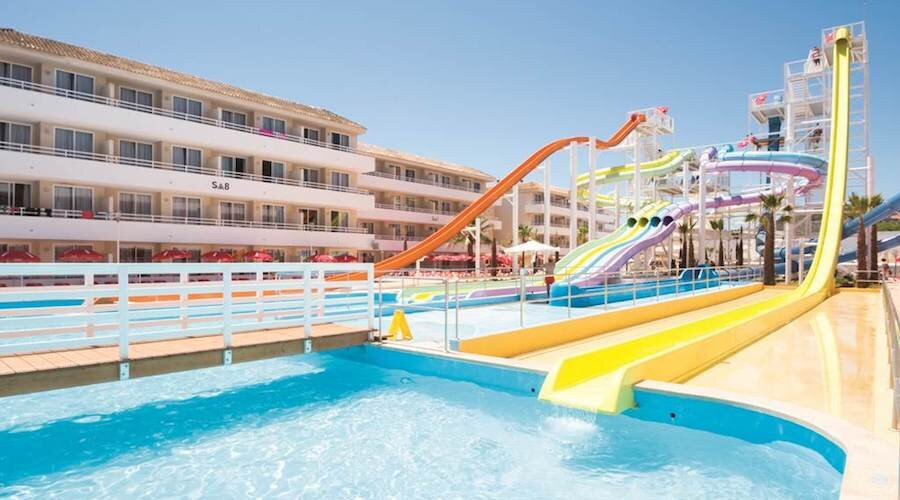 Who says that children have to have all the fun when it comes a holiday? Book a break at the BH Mallorca in Magaluf and you'll be leaving the kids behind as this 4* hotel operates on an adults only basis.
The hotel has its own waterpark on site – which is believed to be the first in the world to be adult only – and that is something that is sure to add to the levels of enjoyment in a resort that is known for being fun all the way.
In total, there are nine white-knuckle slides within the hotel as well as a wave pool and giant Jacuzzis that you can enjoy during the day before partying late into the night afterwards.
You don't even need head into Magaluf to let you hair down either, with the hotel having something of a party vibe itself with a number of big names – including David Guetta and Tinie Tempah – having performed on the main stage.
Room Only and All Inclusive packages are available at the hotel, which houses a range of colourful suites that sleep up to five people if you're travelling with friends.
Club Mac Alcudia – Alcudia, Majorca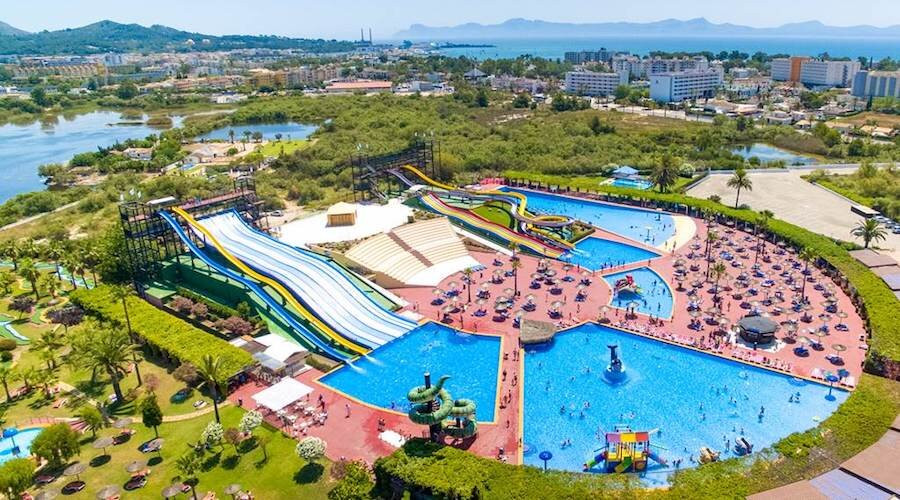 If you are looking for a fun-filled break on the island of Majorca then the Club Mac Alcudia is a hotel that should feature highly on your list.
The All Inclusive hotel features a range of facilities to meet the needs of visitors of all ages, with eight different swimming pools, a cinema and entertainment both day and night for children and adults alike.
Visitors to the sprawling hotel also benefit from access to the Hidropark Alcudia, which is the only waterpark to the north of the island.
Located next door, the waterpark is open from May through the October and features rides and attractions from small children to thrill seekers alike – ranging from a wave pool to the high-speed Kamikaze slide.
The fact that the waterpark is split from the hotel will appeal to some who might want to spend some time away from the slides, but Club Mac Alcudia is a complex that is will worth a visit.
Gouves Waterpark Holiday Resort – Gouves, Crete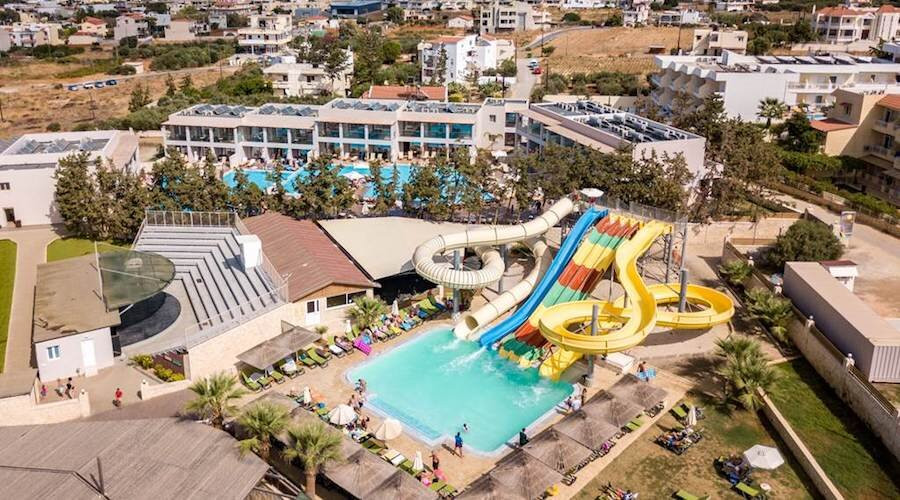 The Gouves Waterpark Holiday Resort on the island of Crete is an award-winning hotel located near to the beach in the tranquil village of Gouves.
The hotel features stylish accommodation that ranges from traditional hotel rooms to family suites, with top class dining and a busy entertainment programme.
There are also fantastic facilities for families, with a kids club where youngsters can be kept busy whilst you relax by one of the various pools.
That's assuming that the children don't want to make use of the on-site waterpark however, as the hotel has its own aquapark that features a number of different slides.
One major plus is that some of the smaller slides for little children are split apart away from the more crowded areas – which is perfect for those who may be a little less confident.
With the larger resort of Hersonissos nearby, you also don't have far to go to enjoy the nightlife.
Jupiter Albufeira – Albufeira, Portugal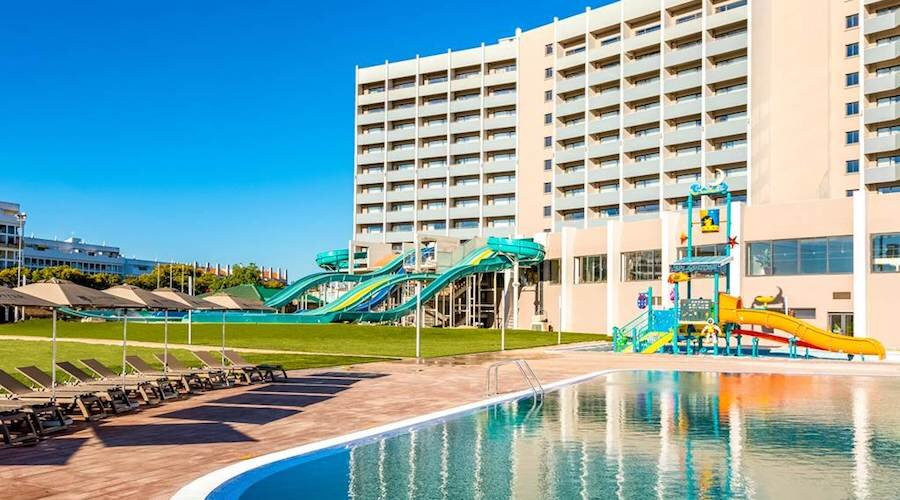 One of the newest hotels in the Algarve, the Jupiter Albufeira is located in the Montechoro district of Albufeira close to the 'strip' and is set to become of the go-to hotels in the area for families.
That's in no small part down to the waterpark located on site, with five slides and a splash park area for smaller children being located around the main pool area, which houses a swim-up bar.
It means that parents a can relax with a drink under the sun, whilst youngsters enjoy letting off some steam – assuming that the adults don't want to get involved in the action themselves.
The hotel runs on an All Inclusive basis, with full refurbished rooms and suites and three different dining options, including an a la carte restaurant and outdoor Italian offering. A free shuttle service operates to the nearest beach and to Albufeira Old Town.
For additional fun, you can also book a break that includes tickets to the nearby Zoomarine Park – where there are plenty of larger slides and rides to enjoy.
Labranda Blue Bay Resort & Waterpark Hotel – Ialyssos, Rhodes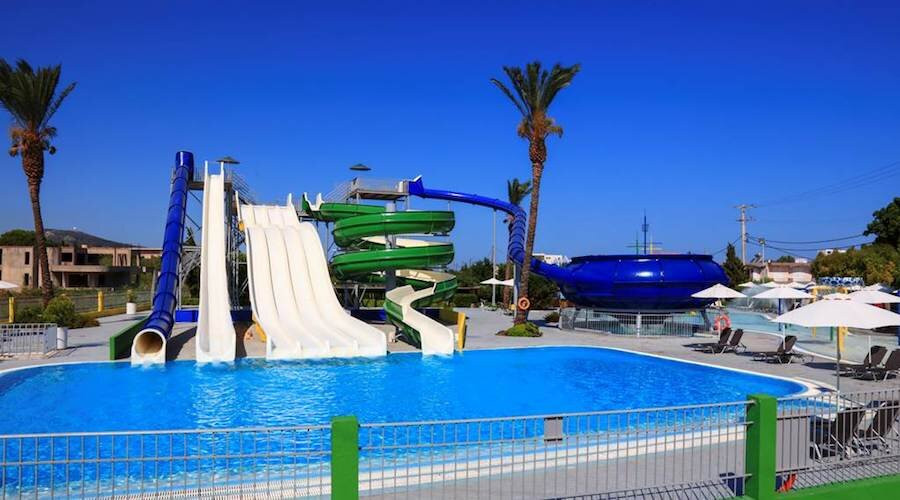 The Labranda Blue Bay Resort sits on the island of Rhodes, with the 4* hotel being found in the resort of Ialyssos.
Situated in a beachfront location, there are various accommodation options to cater for couples and families alike who want to make the most of the favourable weather conditions to be found on the island.
Four different dining options, including an a la carte option with the very best in Greek cuisine, mean there is something for everyone whilst there are no fewer than nine different pools – four of which are for children.
Kids will also love the chance to hit the slides that are found in the on-site waterpark, which includes a mixture of larger chutes for those who are looking for a thrill to a smaller splash park area for little children.
PortAventura Caribe Hotel – Costa Dorada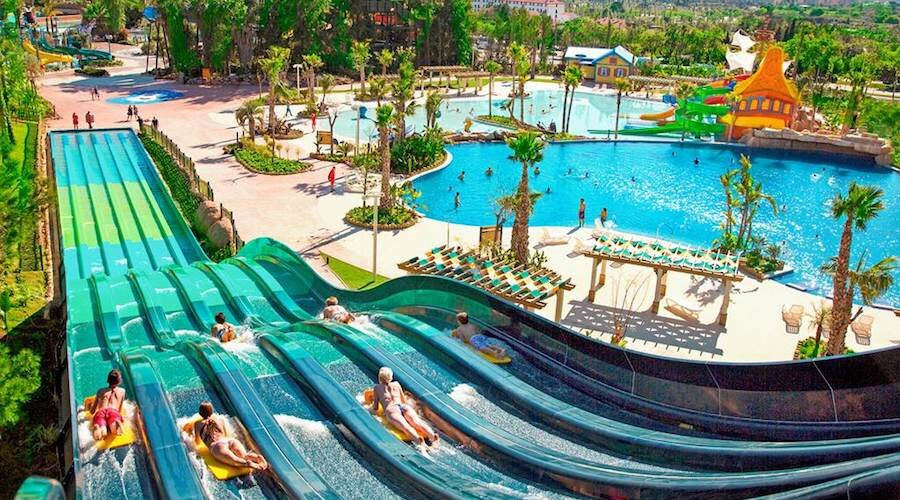 The PortAventura Caribe Hotel is one of the hotels that is located at the PortAventura Resort on the Costa Dorada and is around 15 minutes away from the beach.
If you don't want to make that walk, there is swimming pool on site that has a beach of its own – something not found anywhere else in Europe…
Sitting amongst impressive gardens, the hotel has six restaurants, various entertainment options and a wide range of facilities but it is PortAventura itself that will be the major draw.
Alongside the main theme park and Ferrari Land – the park dedicated to the famous car manufacturer – PortAventura Caribe is a huge waterpark that is one of the main attractions on the Costa Dorada.
There is the Sesamo Beach children's pool to cater for the smallest visitors whereas those with a need for speed will prefer to head for the some of the larger slides – such as King Khajuna and El Tifón.
If you want a waterpark holiday, this one will be hard to beat…
Sol Katmandu Park & Resort Hotel – Magaluf, Majorca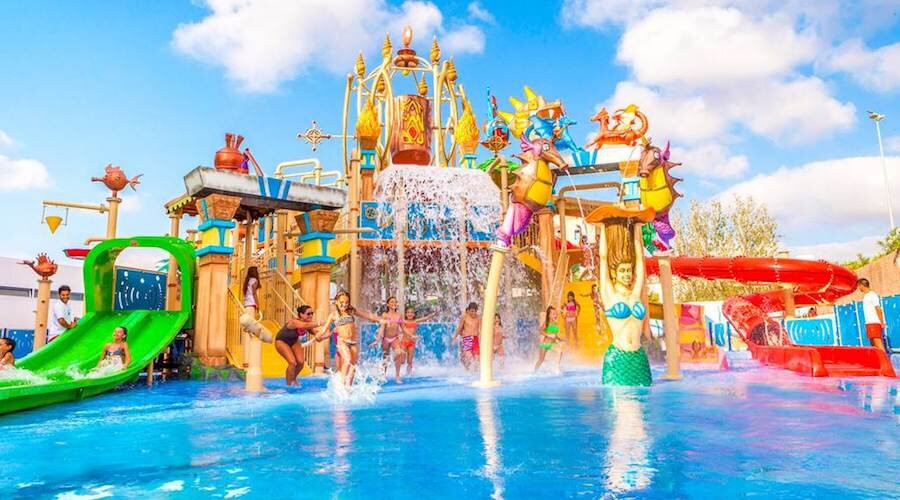 The Sol Katmandu Park and Resort is located in the resort of Magaluf and has been designed with families firmly in mind.
Access to Katmandu Park means there will be no shortage of fun for visitors, who can enjoy a range of different attractions that include the Katlantis Splash Park.
Here, there are multiple slides and more than 150 interactive water elements that will keep children entertained for ages.
Stylish, refurbished rooms are located across the hotel, which offers Bed and Breakfast, Half Board and All Inclusive holidays.
Located close to the heart of Magaluf and with easy access to the beach, you'll have easy access to everything the resort has to offer.