It's probably a safe bet that when most people want to book a holiday in the sun with the family, they simply go ahead and do it.
It's a relatively simple process of deciding where you want to go that is within your budget, sorting out the dates, finding the right package and then paying for it.
Job done.
But sometimes it isn't as simple as that, particularly when it comes to the rules and regulations that surround travelling with children – rules and regulations that are particularly relevant when it comes to those travelling as part of a larger family or alone with children.
That's largely down to the requirements that airlines have in terms of how many children are allowed to travel with an adult, and what rules govern children of different ages.
For example, the restrictions on how many infants can travel with an adult will be different to how many children of junior school age can travel.
So what are the actual rules? And how do different airlines apply them?
Sadly that isn't a simple question to answer as there are no hard and fast regulations that govern the adult to child ratio on a flight booking and what works for one airline might not work for another.
In most cases you will find that things are stricter with smaller children, particularly those under the age of two where they don't require a seat of their own.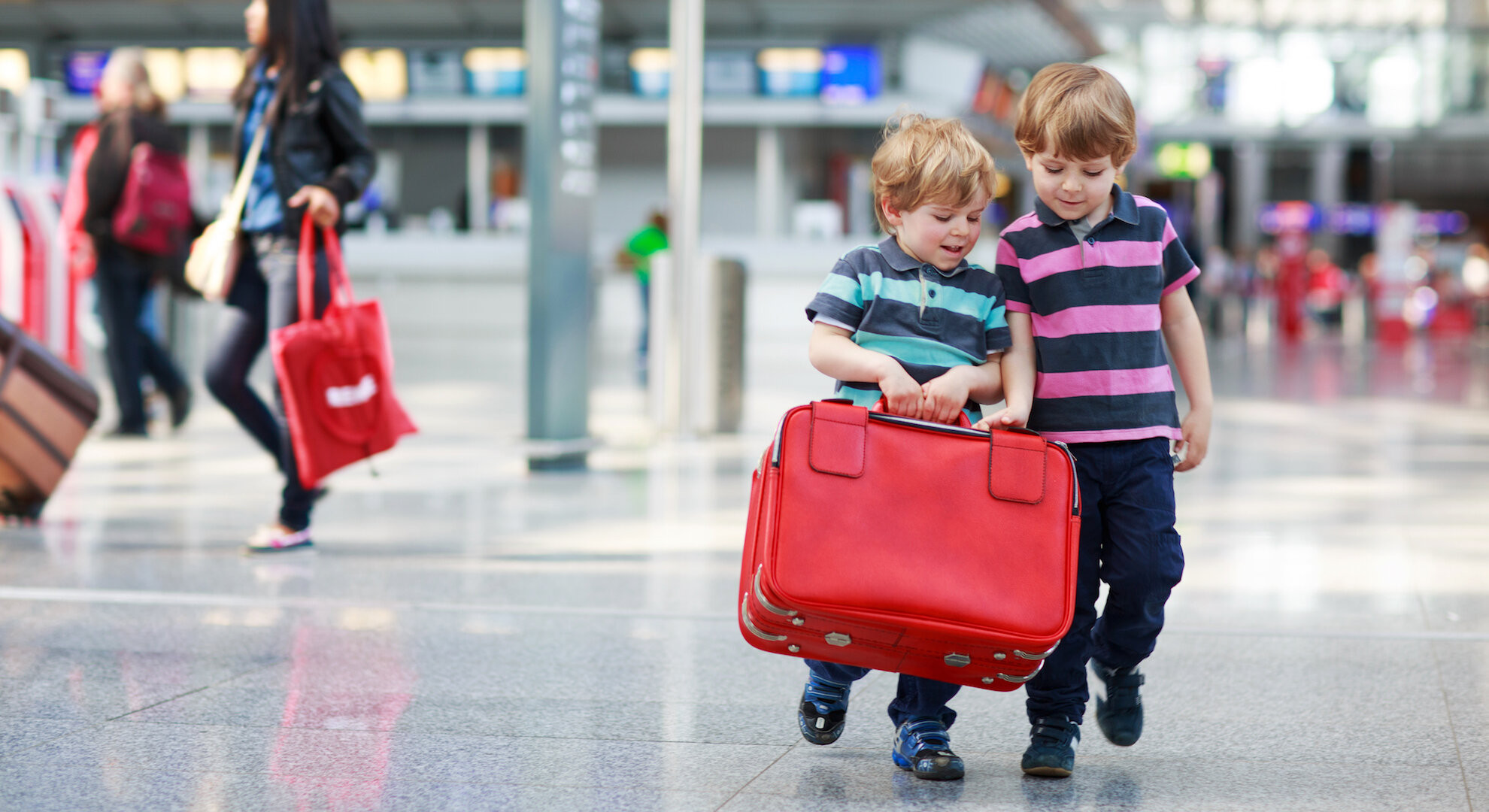 Those under two will usually be seated on the lap of an adult, which means you'll need one adult per infant unless the airline operates a policy where you can pay for an additional seat and make use of a child car seat to carry one of the two infants.
This rule will be different from one airline to the next but perhaps the best approach to take is to adopt the widely held view that one adult per infant will apply and that you will face greater restrictions on children under the age of five.
It is worth nothing that infants in laps do not get their own luggage allowance although you will be able to take a changing bag as part of your hand luggage and will be able to carry certain items free of charge – such as a travel cot or pushchair.
As children get older, so the restrictions will change but you would be wise to check with the individual airline before booking to ensure that you don't fall foul of any rules that are in place.
At the end of the day, checking out the details in advance will only ensure there are no problems further down the line and that's something we can do when booking your holiday to avoid any potential issues.
We have however put together a handy guide as to the approach some of the major airlines adopt to help you out…
Ryanair:
If flying with Ryanair, any infants aged from eight days to 23 months old inclusive must be accompanied by an adult aged 16 and over – with one infant per adult.
Babies aged seven days and under cannot travel whilst children who turn two during a holiday will need an adult seat for the return journey.
If flying with Ryanair alongside a child under twelve (excluding infants), an adult will need to book a reserved seat on the plane, with a maximum of four children per adult then entitled to a free reserved seat to ensure families are able to stay seated together.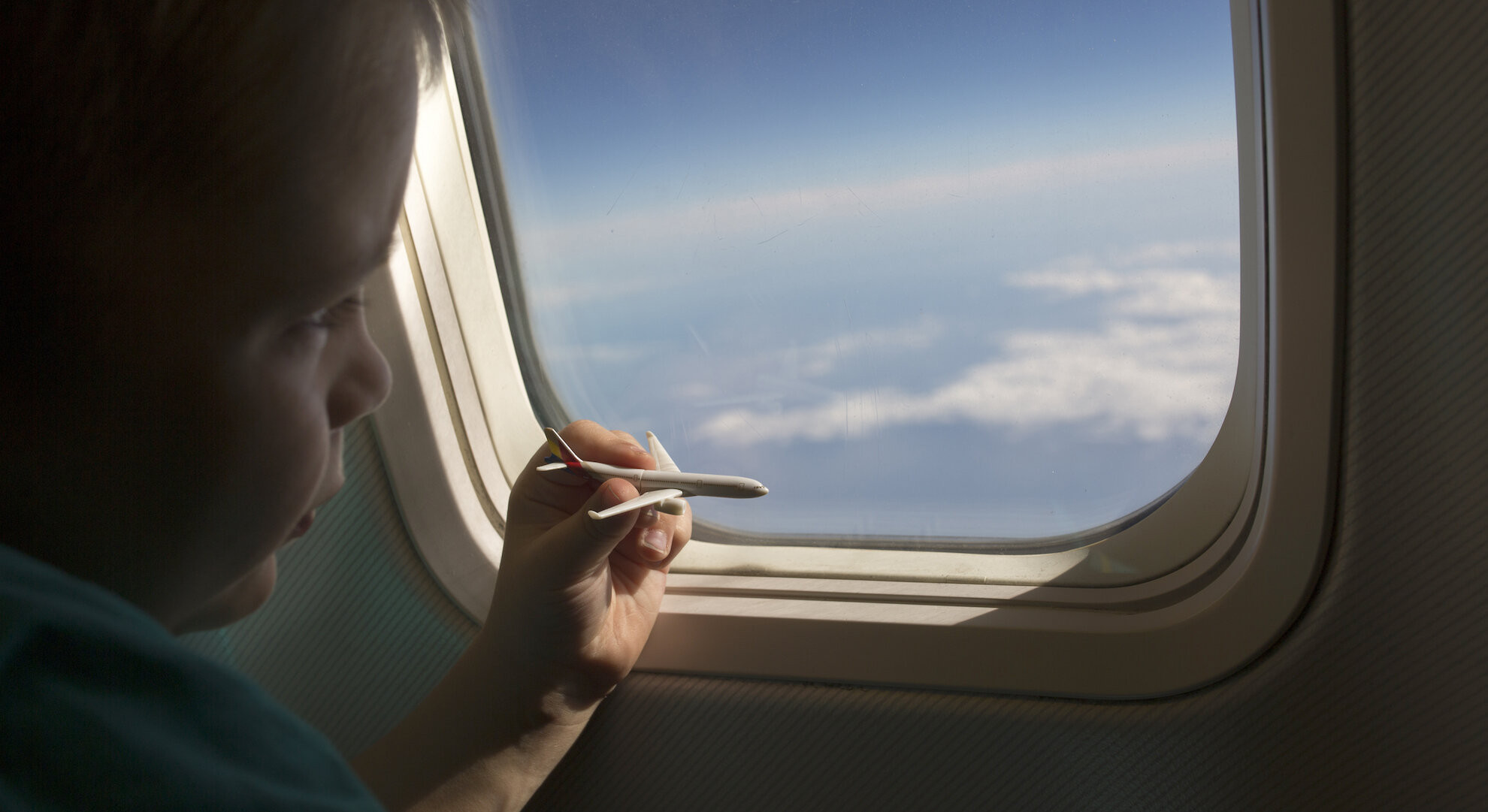 Easyjet:
Infants aged from 14 days to two years old can only fly with an adult, with those under 14 days old unable to travel. If flying with an under five then you'll get early boarding.
Any child aged from two to 13 years old must travel with an adult, with those aged 14 and 15 able to travel without an adult but not alongside those aged 13 and under.
Those aged 16+ can travel with children.
Jet2:
Jet2 will allow infants to travel from the age of 14 days upwards, with those aged under two able to fly on the knee of a fare-paying adult on a basis of one infant per adult.
Any child aged under the age of 14 will need to travel with someone aged over 16 who takes full responsibility for them.
British Airways:
British Airways will allow infants aged under 2 to travel on the lap of an adult, or in their own child seat at an increased fare.
Each infant in a party will need to be accompanied by an adult if seated on an adults lap, although an adult can travel with two infants if at least one is aged over six months – with one infant on a lap and the other in a child seat.
Should you have an infant who reaches the age of two whilst away, you will pay the infant fare for the entire journey.
All children aged under 14 will need to be accompanied by an adult aged 16 and over although it is possible to book children over the age of five into a different cabin to you on the plane – although they remain your responsibility at all times.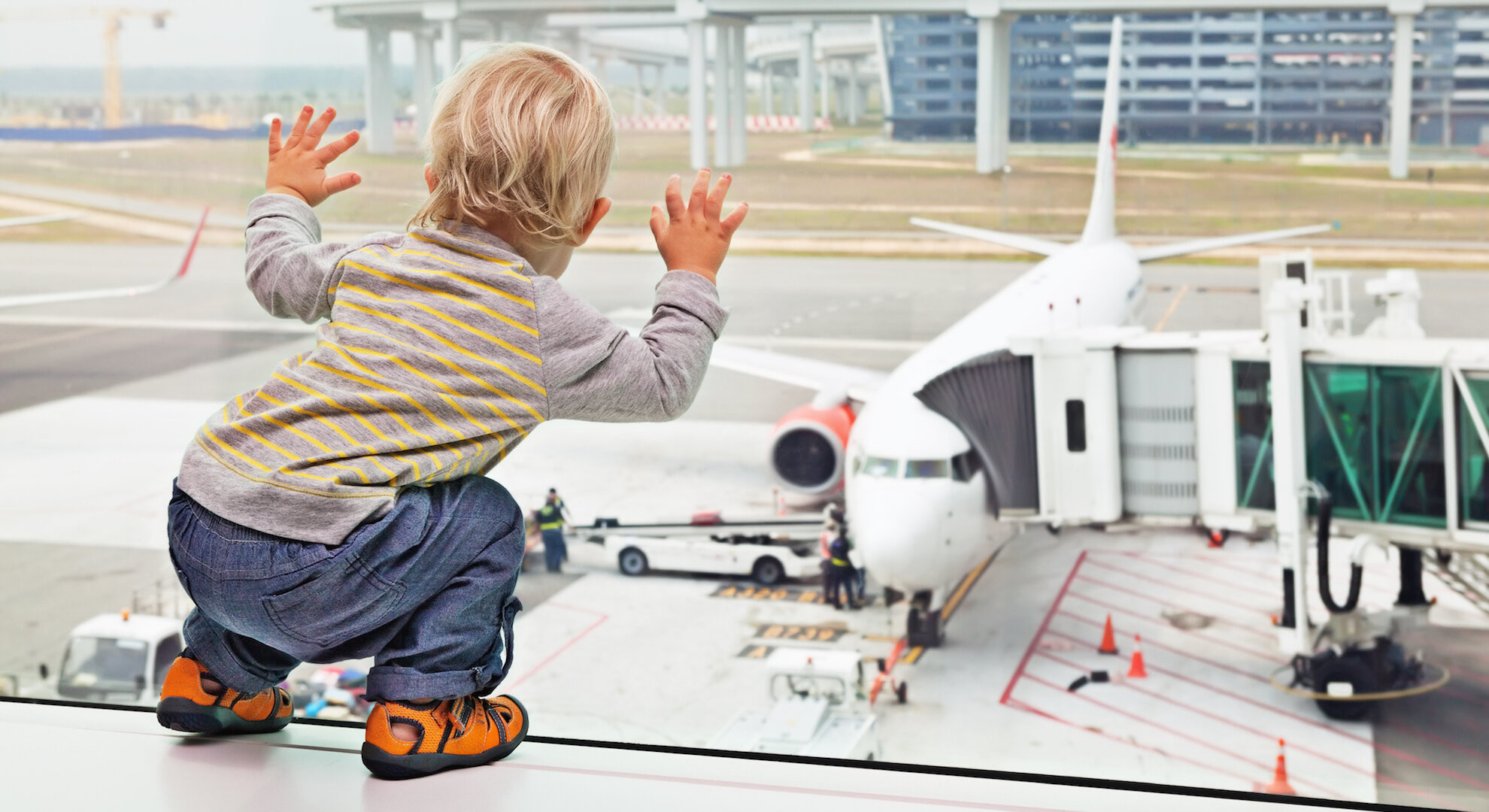 Virgin Atlantic:
Virgin Atlantic will allow you to travel with a baby that is at least 48 hours old, with those aged two and under travelling on the lap of adult or alternatively in a special cot onboard.
Children can also fly in a car seat that you have provided but only under direct supervision of a guardian aged at least 14 years old who is seated next to them.
Adults can fly with two infants on Virgin Atlantic flights, although at least one will need to use a car seat.
Virgin Atlantic class anyone aged from two to eleven as a child, with those aged 12-17 being classed as young adults.
Emirates:
Emirates offers special family check in desks for families and also ensures that those with young children are able to board flights first.
Infants aged under 2 will need to travel on your lap unless in your own child seat that has been approved for aircraft use – with the latter requiring a separate seat booked as a child fare.
Baby bassinets are also available but are subject to availability.
A range of services are available for those with children, which include special meals for under 12s, kids packs to keep them entertained.
Etihad:
Etihad allows children to travel from the age of seven days upwards, with those aged under two flying on an infant fare unless you book a separate seat – in which case a child fare will apply.
Each infant travelling must be accompanied by an adult – so there is no option for an adult to travel with two infants.
Child fares apply for those aged up to twelve, when adult fares come into play.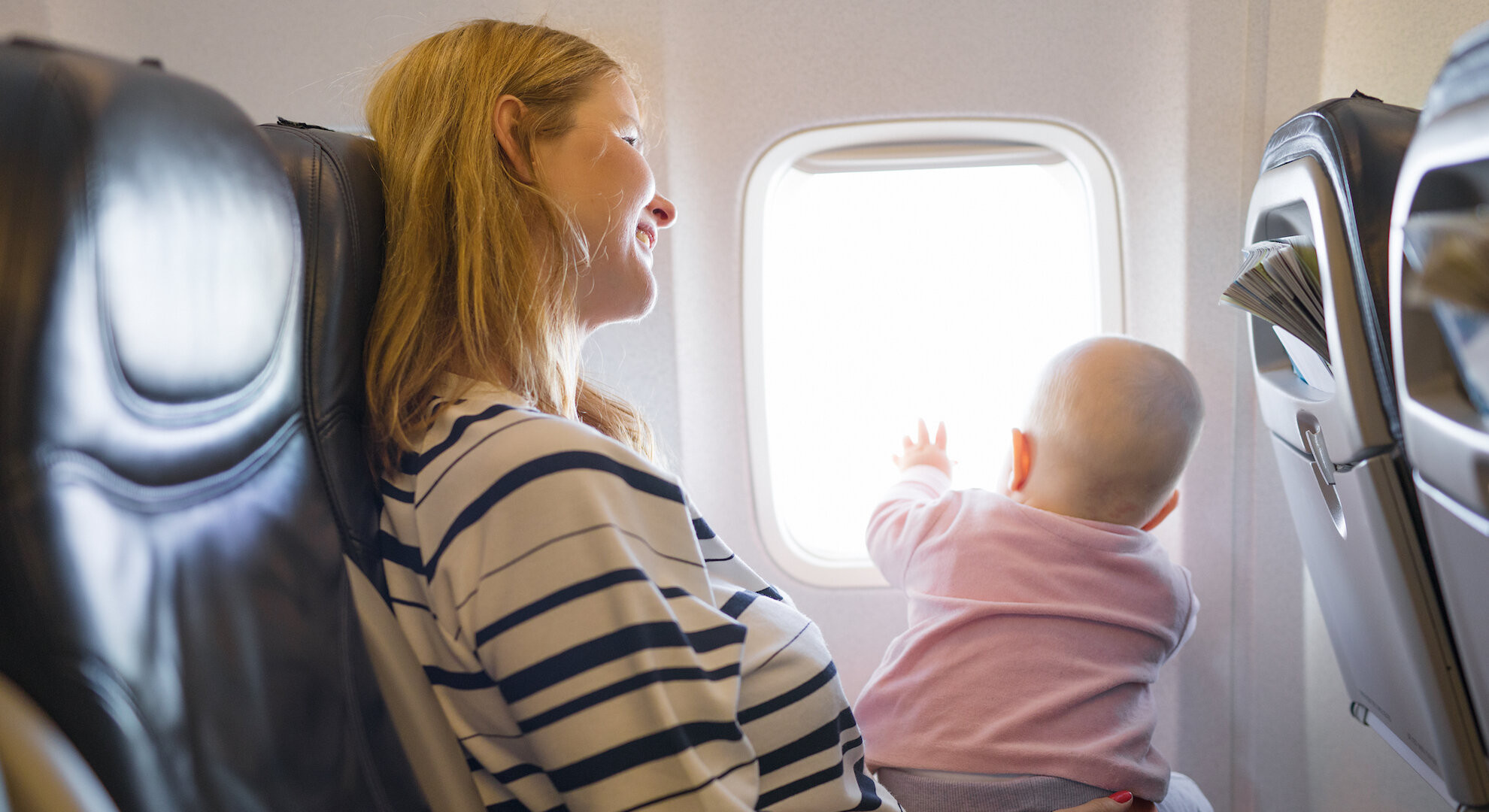 Qantas:
Infants are booked without a seat are must travel either on the lap of an adult or in a bassinet if one is available – meaning a limit of one infant per adult. Bookings can be made with one adult and more than one infant but will require any additional infant to travel in a child seat.
Thomas Cook Airlines:
Thomas Cook allows those aged under two to travel on a parents lap but for safety reasons, only one infant under the age of two can be seated in each row – which means a limit of one infant per adult. Infants are given a baggage allowance of 10kg whilst items like car seats and buggies can be carried free of charge.
TUI Airlines:
Youngsters can travel from 14 days old and are classed as an infant up to the age of two, meaning they will need to travel on the lap of an adult. Once older than two, they will be required to pay the full fare. There is a limit of one infant per adult.
Children are classed as those aged under 14 if travelling on a flight only basis and must be accompanied by someone aged 16 or over.